Don't worry if you missed UCAS deadline!
Choose how your professional future self will look like now!
Don't miss the application deadline: January 15th, 2020!
Why you should study in the United Kingdom

Best Universities in Europe
UK is the most popular destination to study in Europe, with 7 out of the top 10 best ranked universities in Europe being from here.

Attractive Areas of Study
There are almost 400 universities in UK, which offer higher education programs in more than 25 subject areas with more than 50.000 available courses.

Successful Career​​
UK graduates are proven to be among the most desirable in the world, with confident analytical thinking, and excellent communication skills developed in the home of the English language.

High Quality Education
British higher education and its quality is one of the best in the world. UK degrees and qualifications are recognised by employers and academics worldwide.

Financing Opportunities
There are multiple options to finance your studies in UK, from the governmental loan available to all EU students to various scholarships offered by universities.

Great Place to Live
Studying in the UK as an international student is a great way to expand your knowledge, experience a new culture, and enjoy new experiences.
Study in UK with EDMUNDO!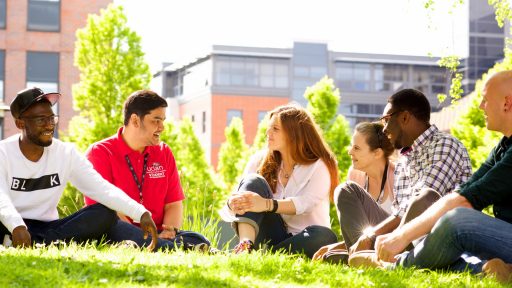 How will Brexit impact your studies in UK?
If you plan to apply to study in the United Kingdom in 2019/2020, you may be concerned about Brexit and what it means for you. Here are a few things you need to know.
You can still enter and study in the UK without a visa, but you will have to travel to and from UK with your national passport rather than you ID card.
You will still be able to access financial support for the duration of your studies on the same basis as those starting in 2018/19.
You will still have access to healthcare and education if you are a legal resident of UK by the time the actual UK's exit from the European Union takes place.
Steps you need to take to apply to study in UK
UK higher education applications are made only through the UCAS platform

FREE COUNSELLING
Get in touch with an EDMUNDO counsellor who will help you choose the best university and study program for you as well as throughout the application process.


UCAS ONLINE
Then go on the UCAS website and create an account. Fill in all the sections of your UCAS account together with an EDMUNDO counsellor, and then you can SEND your application!
See in the video below how to register on UCAS website so that your account will be linked to EDMUNDO2020 in order to be able to receive
free guidance and help with sending your application.
Why apply to UK with an EDMUNDO counsellor?

Personalized counselling
Working with an EDMUNDO counsellor will enable you to find the programmes and universities that best match your academic and career objectives. Counsellors are equipped with comprehensive knowledge about the educational systems and are prepared to answer all of your questions.

Top application file
EMDUNDO counsellors master all the information and the best practices needed to guide you and help you prepare a strong application file that will maximize your chances of being admitted to your chosen universities, while closely observing all requirements and deadlines.

Free and unbiased
The entire counselling process is completely free of charge for everyone applying to any of the international universities that EDMUNDO officially represents. Although partner universities financially support our services, EDMUNDO counsellors are paid the same irrespective of your university choice.

Active community
You will have access to the wider EDMUNDO community of young people who study abroad and this will allow you to find out detailed information about their international personal and academic experience and even make friends with your future university colleagues.
"E super să fii student internațional, ai mult mai multe oportunități decat în țară și tot mediul ăsta (profesorii/colegii/cursurile) e fain, te ajută să înțelegi că poți face orice dacă muncești. Chiar dacă e mai greu la început, merită. Mulțumesc EDMUNDO pentru tot!"
"Îmi place faptul că am colegi din toate colțurile lumii și m-am simțit foarte comfortabil încă din prima zi alături de ei. Profesorii sunt foarte deschiși și prietenoși, gata să te ajute cu orice pot."
Prima săptămână petrecută la Birmingham City University a fost dedicată studenților internaționali. Am cunoscut sute de studenți și acum am prieteni din toată lumea. Calitatea de student internațional e pentru mine un mod de a-mi dezvolta abilitățile personale și de a mă integra mai bine în societate.
EDMUNDO - Biggest UCAS Centre in Romania!